The Silent Auction Platform

Any Charity. Any Size.
Fundraising made easy.
What We Do
BIDAID is an international all-inclusive online silent auction platform. We provide tech solutions and our own bespoke memorabilia for virtual, hybrid and live events. BIDAID offers industry leading event auction software, designed specifically for charity fundraising. Our technology is cloud-based, meaning all users can participate via any available smartphone or tablet.
Silent Auctions
Our highly developed silent auction software is the ultimate fundraising tool for your event. Aesthetically designed to produce a highly engaging platform, BIDAID guarantees a seamless experience for guests and patrons whilst maximising charity fundraising.
Dedicated Auction Creation
We specialise in custom silent auctions, utilising our bespoke software to help raise substantial funds for charities and non-profits. When partnering with BIDAID, you'll have the ability to design your auction with your own unique URL whilst being safe in the knowledge that we're here to assist you every step of the way! This way of working ensures a seamless and successful experience for all.
Guest/Bidder Management
Experience effortless guest management with our user-friendly admin portal. Keep track of your guests' arrival times, seating arrangements, bidding activity, and donation history all in one convenient location.
Auction Lot Provision
Enhance your silent auction with our exclusive selection of unique art, memorabilia and experiences. Our extensive range offers a diverse array of items produced solely for you to supplement your own collection. These can include anything from signed sports kits to celebrity cooking classes and so on.
Payment Processing
Let us handle all payments and donations from your silent auction, giving you the freedom to focus on other important aspects of your event.
Sales Fulfilment
Our fulfilment and after-sales team guarantee that all winners will receive their items promptly upon request, ensuring a fantastic experience for all guests.
We've Got the Lot
With years of experience in the charity auction industry we have become specialists in lot management and provision, ensuring your silent/charity auction is unique and extremely desirable for your guests and patrons.
Furthermore at BIDAID we have a dedicated product development department offering the very best memorabilia in the industry. This sets us apart form the competition and generates higher revenues for our charity partners.
Online Events
Difficult times… easy solutions.
The landscape for fundraising changed dramatically during the global pandemic, but here at BIDAID we adapt quickly to ensure your needs are always met. That's why our fundraising platform is optimised to produce online, hybrid and live events to ensure you can continue raising awareness and revenue no matter what!
Tech Us Out
A touch of glass.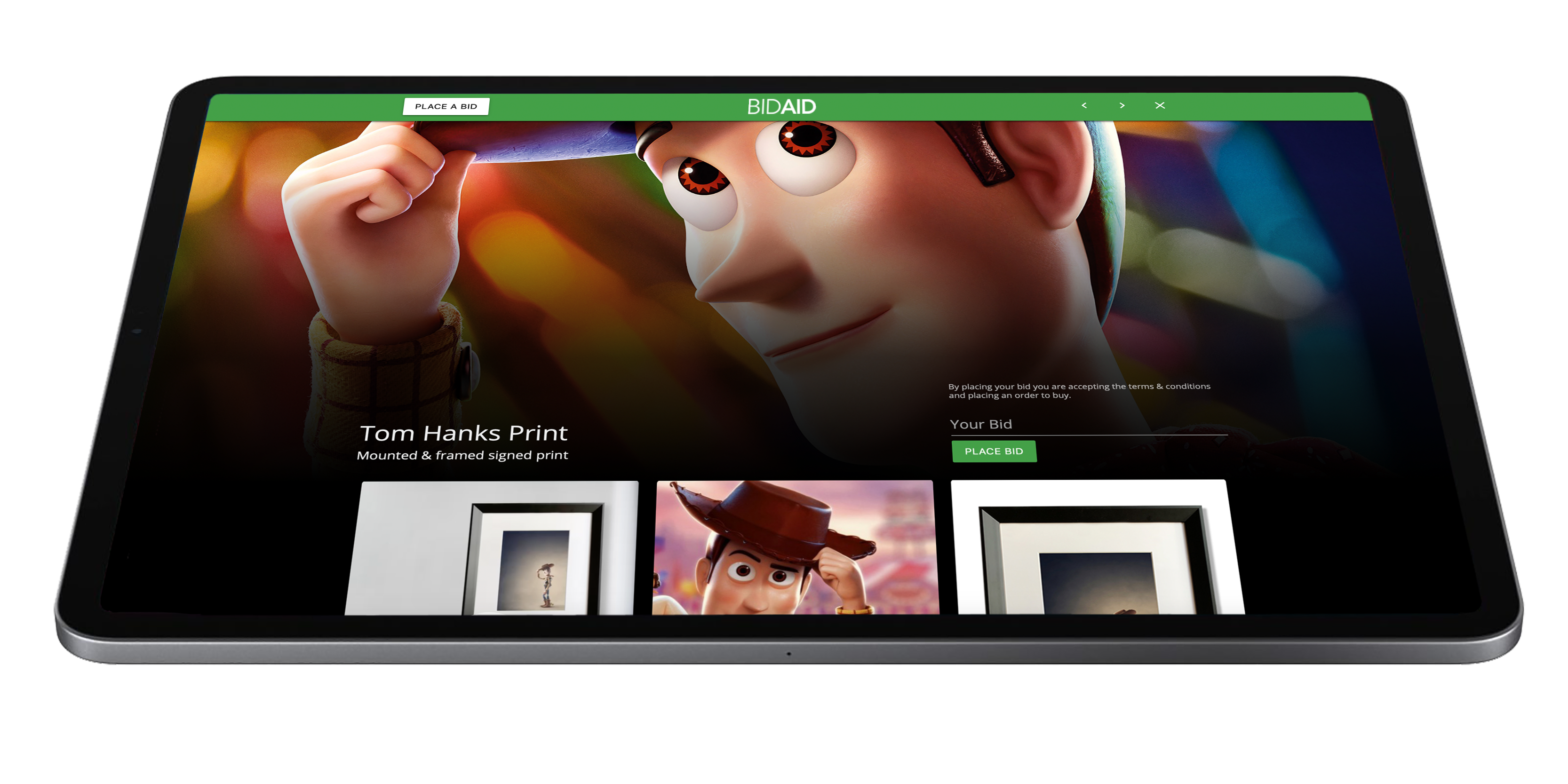 Our Technology has been specifically designed for the charity auction industry. Increased userbility and access is at the forefront of our new live auction technology. The improved interface provides improved product overview and engagement increasing the volume of activity and overall fundraising levels.
Learn More
Testimonials
Recent client testimonials.
The Film & TV Charity used BidAid to supply a bespoke Silent Auction for their 2019 Summer Fundraiser. The service from the outset was superb, nothing was too much trouble and the site looked fantastic. On the night we exceeded our fundraising with a mix of our own auction lots and some lovely items which Jamie sourced for us and we received payment very quickly following the event. Highly recommended. Stephanie Jarman - The Film & TV Charity
BidAid have just delivered a fantastic and seamless silent auction for us in Germany - their team went out of their way to ensure their site was just right for us, making many changes and of course translating it into German! The service and product is excellent, we exceeded our targets and we won't hesitate to use them again. Sabrina Beham - Director Event-Fundraising-Behm
Working with BidAid has given us a platform to raise thousands of £'s at a time when fundraising is crucial for us to keep caring for our cats and sustaining the conservation programmes we support. Jamie and his team have been a pleasure to work with, driven, professional and committed to helping us reach and smash our targets. We'll certainly be partnering with BidAid again in the future. James Hanaway - Head of Partneships - Big Cat Sanctuary
Let's talk...
Get in touch.